OUTDOOR WEATHERPROOF SECURITY CAMERAS
Outdoor Cameras for Security
Outdoor cameras are essential for securing all types of assets and locations. There is nothing more unfortunate than purchasing a surveillance system only to find out that the cameras will not hold up to harsh weather. That's why we at Montavue offer a wide variety of IP67 weatherproof cameras to ensure that your property and assets are protected no matter what mother nature dishes out. Let's take a look at the uses for an outdoor security camera, what makes a camera suitable for use outdoors and what you should look for when shopping for an outdoor security camera.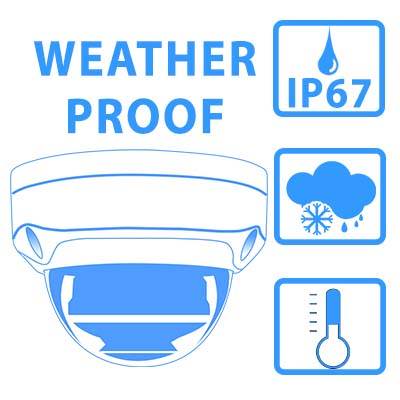 Uses For an Outdoor Security Camera
There are many uses for an outdoor security camera from implementing an access control system to viewing wildlife. Below is a list of some of the most common uses and where you might want to install outdoor security cameras.
Outdoor Security Cameras are great for monitoring individuals entering or exiting your facility. Placing a weatherproof camera at entrances to your property can prevent unauthorized individuals from entering your facility. They also have the added benefit of helping to keep track of when employees actually arrive to work and when they leave.
Having security cameras that can be placed outdoors is essential for monitoring parking lots. Installing weatherproof cameras in your parking lot can help deter thieves and provide crucial evidence in the event of accidents.
Outdoor Perimeter Security
Having outdoor cameras can help ensure the security around locked gates, fences, and entrances. The mere presence of a security camera in these areas will deter may would be criminals from trespassing on your property.
Outdoor security cameras have many other uses as well. Thanks to advances in surveillance technology these cameras can be used for things outside the typical scope of security. Some examples are animal monitoring, time-lapse videos, employee safety, and live streaming.
What Makes An Outdoor Camera?
Outdoor cameras need to be able to withstand rain, snow, and heat. So how can they do this? Our Outdoor cameras have an IP67 rating which is a standard made by the International Electrotechnical Commission (IEC) which tells you how well an electrical device can resist water and dust. A rating of IP67 means that our outdoor camera can withstand exposure to water and dust. This is made possible by building the security camera with an aluminum housing and using all weatherproof seals. In addition, an outdoor camera should have good night vision capabilities. Our Outdoor cameras need as little as .005 LUX to produce a color image and when the camera does switch to black and white you can get up to 230ft of infrared night vision. Click here to learn more about our Color Night Optics and Infrared Night Vision. Montavue outdoor cameras meet all the requirements of an outdoor camera. They are IP67 rated to withstand rain and extreme weather conditions, and they have excellent night vision capabilities.
What To Look For When Buying an Outdoor Camera
When shopping for an outdoor camera there are a few things that you will want to look for. First and foremost you want to make sure that the outdoor camera can withstand rain, heat, and cold. You can check this by looking for the IP rating. You will want the outdoor camera to have at least an IP67 rating to ensure that it has been tested to withstand water and dust. You will also want to look for specs on the outdoor camera. In the specifications look for a section that says operating temperature. This will tell you what the maximum and minimum temperatures are that the outdoor camera can function in. Our outdoor cameras can operate in temperatures ranging from -30° C ~ +60° C (-22° F ~ +140° F). This will help ensure that the outdoor camera does not fail in extreme temperatures. Next, you will want to make sure that the outdoor camera has good night vision capabilities. Again check the specifications for the camera. Look for two sections the first should say night vision range the second should say Minumum Illumination. This will tell you how far the infrared will reach as well as how much light is needed for the camera to produce an image. If the minimum illumination with the IR on is anything but 0 then you should look elsewhere. Our outdoor cameras require 0 lux with the IR on.