---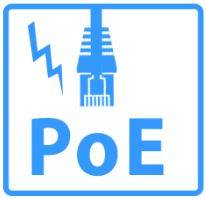 Ethernet is something many people use every single day to access the internet or network on their computer or use an IP phone. Now with ethernet you can power and transmit video over that same cable, resulting in IP PoE cameras. PoE cameras are made to produce an incredible image and use very little power at the same time, resulting in the ability to use a very small and easy to work with a cat5e ethernet cable.
Montavue network surveillance systems use power-over-ethernet (PoE) in a single cat5e cable to connect the camera to the recorder, switch, or router. No need for older analog technology running BNC cable with a separate power source and video line. IP and PoE cameras are the way of the future and make installation extremely simple and versatile.
With PoE IP cameras from Montavue, all you do is run one cable from the camera to the NVR. As a benefit, every Montavue camera comes with 100ft pre-terminated cable with waterproof connectors.
VERSATILE & FLEXIBLE INSTALLATION

PoE IP cameras have revolutionized the surveillance industry giving people the ability to connect to cameras from anywhere around the world. The camera just needs to be hooked into the internet using a Cat5e cable through a switch or router, and the NVR just needs the IP address to bring its footage into the local NVR and storage. Meaning you can go very simple and plug a camera directly into the NVR, or you can hook cameras up around the world or to a network in your facility without running every camera cable back to the NVR. This cuts down on installation time and cabling.
VIDEO & POWER IN ONE CABLE

With analog systems, the cameras require two cables, one to transmit video and the other to transmit power. With PoE that has been condensed into one easy to use cable. Both the video and power are transmitted at long distances through a single Cat5e cable.
---
With a single Cat5e cable you can run a camera up to 300ft with both power and video transmission. If you need more distance, you can use a PoE switch in between 2 300ft runs, as a power booster. With a PoE switch, you can minimize wiring by only running one cable to a router and then cameras to the switch, versus running all camera cables the full distance.
---
A Power over Ethernet (PoE) switch is a device that has multiple ethernet ports that provide and distribute power and network communications to devices such as IP cameras. The switch is what allows you to expand the reach of your cameras, and the number of cameras you can hook into your surveillance system. For example, our 32 channel NVR only has 16 ports, so a switch is necessary to provide the extra 16 ports for a total of 32 cameras. The cameras plug into the switch, and the switch then plugs into the router with a single cable and the NVR can then recognize those cameras if hooked into the same network.
---
All of our switches are compatible with all of our IP systems. You do not need to use a single camera port on the NVR if you prefer to run everything using a switch and hooking through the network. It is up to you if you need one, and we can help you decide. Feel free to email or call us with any questions.