WHAT IS 2D AND 3D DYNAMIC NOISE REDUCTION?
(2D-DNR, 3D-DNR, AND DNR)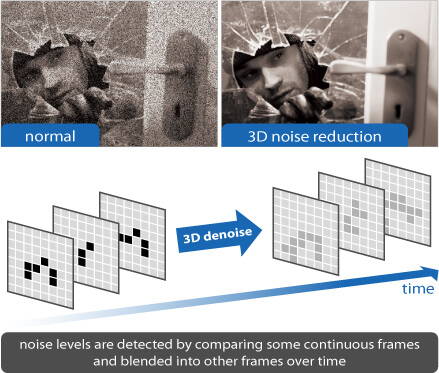 Noise is an unavoidable by-product of amplifiers in security cameras. Video "noise" is the form of "static" which creates a foggy haze, speckles, and fuzz that makes the image on your surveillance camera unclear in low-light conditions. Noise reduction is absolutely necessary if you want a quality clear image in low-light conditions, and it becomes more and more important as resolutions are now pushing past 4MP and 8MP.
There are two prominent noise reduction methods in the market. The first is a temporal noise reduction method called 2D-DNR, and the second is 3D-DNR which is spatial noise reduction.
---
2D-DNR is a process that compares one frame to the next and removes any oddity that does not appear in each frame. This is a temporal noise reduction method and is not sufficient for higher resolution images such as 4MP and 8MP. Although it will remove some graininess in an image, it isn't enough to provide that clear image Montavue and customers demand. That is why 3D-DNR was developed.
3D-DNR is different as it is "spatial noise reduction", which compares pixels within the same frame on top of frame-to-frame comparison. 3D-DNR removes the grainy fuzzy appearances of low light images, will handle moving objects without leaving tails behind, and in low light, it makes an image clearer and sharper compared to no noise reduction or 2D-DNR. 3D-DNR is essential to producing a clear image from your security cameras on your surveillance system.
---
STORAGE SAVINGS FROM NOISE REDUCTION

If image quality isn't of importance to you, we are sure storage is. As the resolutions of cameras keep climbing, storage is becoming more scarce in surveillance systems as an 8MP camera takes up double that of a 4MP, and almost 8 times as much as a 2MP 1080P HD camera. If your camera does not have noise reduction, then your NVR or DVR is recording the image with noise, which creates larger files and takes up more space.
---
NOISE REDUCTION REDUCES FALSE MOTION ALERTS

With a Montavue camera or full surveillance system, you have the option on every camera to set up motion alerts. These alerts can be in the form of email snapshots, or push-notifications on your mobile phone through our MontavueGO app. If you have the camera setup to sense motion, you will need and want noise reduction, because without it, the camera may falsely detect motion because of the grainy images.